Texas, June 23, 2016
Reprinted from Watch Dog Texas By Kenric Ward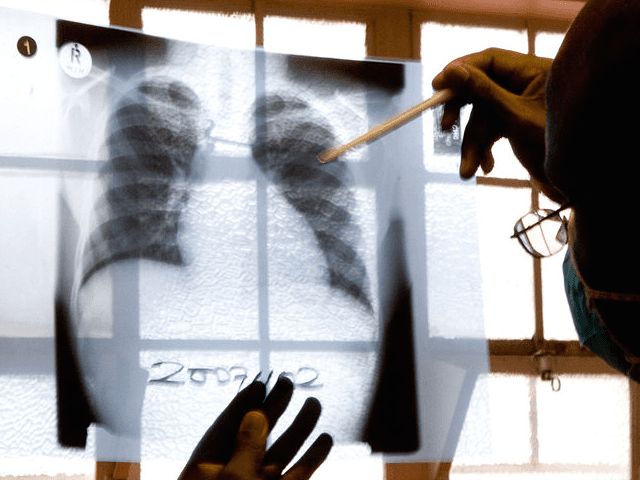 IT'S BACK: Tuberculosis tests came up positive on 16.8 percent of refugees settling in Texas. Ten years ago, the lung disease was virtually eradicated in the United States. AP photo
The Department of State Health Services said 1,238 refugees, asylum-seekers, Cuban parolees, human-trafficking victims and holders of special immigrant visas tested positive for TB.
Texas typically reports 1,200 to 1,300 active TB cases annually, DSHS said.
DSHS spokesman Chris Van Deusen said the positive screenings by refugees could indicate latent TB infections.
"They have been exposed to TB and have the bacteria dormant in their body. It does not indicate that they are sick with tuberculosis and capable of spreading it," Van Deusen said.
But the federal Refugee Health Program runs initial health screenings, but does not follow immigrants long-term, so the agency doesn't have data on whether any have progressed to active tuberculosis .
Individuals who test positive for TB in Texas are referred to local health departments or DSHS regional offices for further assessment and treatment, Van Deusen said.
"People with latent TB infection don't present a risk to the public because they cannot spread the disease to others. Following through with the recommended treatment of antibiotics should eliminate the infection so it will never develop into active disease," he added.
Some 950 refugees settling in the Lone Star State tested positive for TB — 16.8 percent of the refugee arrivals from Oct. 1, 2014, to Sept. 30, 2015.
Overall, 10.9 percent of the refugees, asylum-seekers, Cuban parolees, human-trafficking victims and holders of special immigrant visas tested positive in Texas.
U.S. Rep. Lamar Smith, R-San Antonio, told Watchdog: "The rising incidence of tuberculosis in Texas is another reason we need to secure our border. Americans should not be put at risk by illegal immigrants."
The Obama administration's fast-tracking of refugees — with a goal of bringing 10,000 Syrians to the United States by September — could mean more cases on the way.
"The Obama administration has developed 'alternative legal pathways' for refugees in order to circumvent the numerical targets of the refugee resettlement program," Nayla Rush, a senior researcher at the Center for Immigration Studies, has written.
With a goal of accepting 100,000 refugees this fiscal year, the U.S. is on a pace to boost refugee resettlement by 40 percent over last year.
The federal Centers for Disease Control and Prevention reports that 66 percent of all TB cases in the U.S. involve foreign-born persons — with Texas, California, New York and Florida accounting for over half of the cases.
Rep. Brian Babin, R-Baytown
(previously featured on LNO)
, told Watchdog: "The health infections that refugees are bringing into the U.S. are often overshadowed by the national security risks that they pose."
Citing a "financial burden and health risk to the people of Texas," Babin last year introduced H.R. 3314, the Resettlement Accountability National Security Act. The measure would "put a pause on the U.N.-led refugee resettlement program so that Congress can rein in this burdensome program," the congressman said.
Babin's bill has 84 co-sponsors, including 15 other Texas lawmakers. All 84 are Republicans.
In another border-related health move, Texas Gov. Greg Abbott on Wednesday requested $11 million from the CDC to assist the fight against the Zika virus, entering the country from Central and South America. Read Abbott's letter here.
Kenric Ward writes for the Texas Bureau of Watchdog.org. Contact him at kward@watchdog.org.