Colleyville, Texas   September 8, 2016
By Nelson Thibodeaux, Editor LNO
The new concept Restaurant is Open in Colleyville located at  5120 TX-121, Colleyville, TX 76034 in the old Mac's Bar and Grill location.  The facility is open from 10:30 am until 2 AM everyday except Sunday  when it closes at Midnight.  More information is available by Phone:(682) 738-3666.
The Mrs. and I decided for an early lunch this week and dropped in the new Craft and Crab Restaurant.   When we walked in Tim McClure, Director of Operations for the controlling corporation was at the front door and welcomed us to the facility.  The first thing you will notice is an entire make over of the old Mac's restaurant.
With 36 Giant Flat Screens TVs, as well as several smaller ones near the bar, one will not be without an opportunity to catch their favorite sport's team while eating.
The 2nd realization is that this is NOT a white table cloth establishment, in fact all of the tables actually have a white butcher paper type of covering.

Actually our server wrote her name on the paper, which certainly was the beginning of this adventurous this new concept in Colleyville.
It was explained to us that the  approach, at least at dinner, is to order "family style", that is to order by the 1/2 lb or pound.  She said they originally only did pounds however found that was too much for a couple, so they now offer 1/2 pound as well.  Since I wasn't sure I was up to a 1/2 lb, much less a pound, we searched and found the lunch menu, where one can order somewhat less for the meal!
I started with a salad with their special Champagne Vinaigrette
and the crab cakes for an appetizer.
Then comes the perfunctory Fried Shrimp for yours truly,
and the Seafood Gumbo for the Mrs.
Then a couple of sides, first the always required, for a Cajun anyway; Dirty Rice,
and of course Red Beans and Rice!
The current menu is below, however the staff pointed out the restaurant is still in a "soft" opening, therefore getting input and making decisions about the final menu and style.
I like the menu offerings and concept in general.  However, finding out that the crab legs are brought over and just dumped on the table is not necessarily my concept of an evening meal, however, it may be just the ticket for those who crave this dish.  Now, no one has ever accused me of having a sophisticated pallet, in fact, I am more a meat and potatoes guy, but I do come from a Cajun heritage.  However, unlike my Cajun kin, I am not one that has to put Tabasco Sauce on everything that comes to the table, in fact I like my meals NOT spicy.  The good news here is you can have it your way, spicy or regular mild for us older generation types that had to give spicy up years ago.  Therefore, this was a big plus for me.  The salad, crab cakes and shrimp were excellent, the rice and beans good, but the dirty rice and gumbo have some work to do.  First the gumbo; it is served entirely in a bread bowl, as you will see above.  The problem is for gumbo lovers, we like to have our dark roux with the gumbo and in this case the bread seems to suck up the roux leaving only a residue of the fixings without the roux.  Now, I understand the concept here is NO PLATES!  But seriously some offerings require a plate, even if it is a throwaway kind. The dirty rice was a little sticky and peppered with corn, (ok, just not seen it prepared this way).
Craft & Crab feature HUGE outdoor eating options
  as well as a large outdoor playground for children.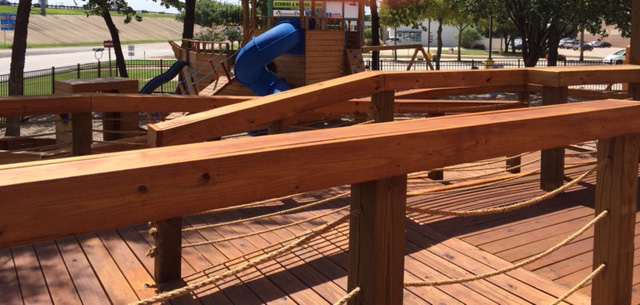 Anyway, the group is still testing out the concept.  I encourage you to go to the restaurant for lunch or dinner, because overall the food is fresh and for the most part well prepared.  If you don't like eating off the butcher paper tell them, most items are served in cardboard little boats anyway for lunch.  But listen up on my gumbo, we need that roux in the mix, dark and tasty, get rid of the bread find ANY kind of bowl!
For beer lovers, this facility has scores of draft beers and a very well stocked bar for others!