Dallas, Texas, December 21, 2018
The banners highlight the historical and continuing contributions of the Majestic Theatre to downtown Dallas' vibrancy.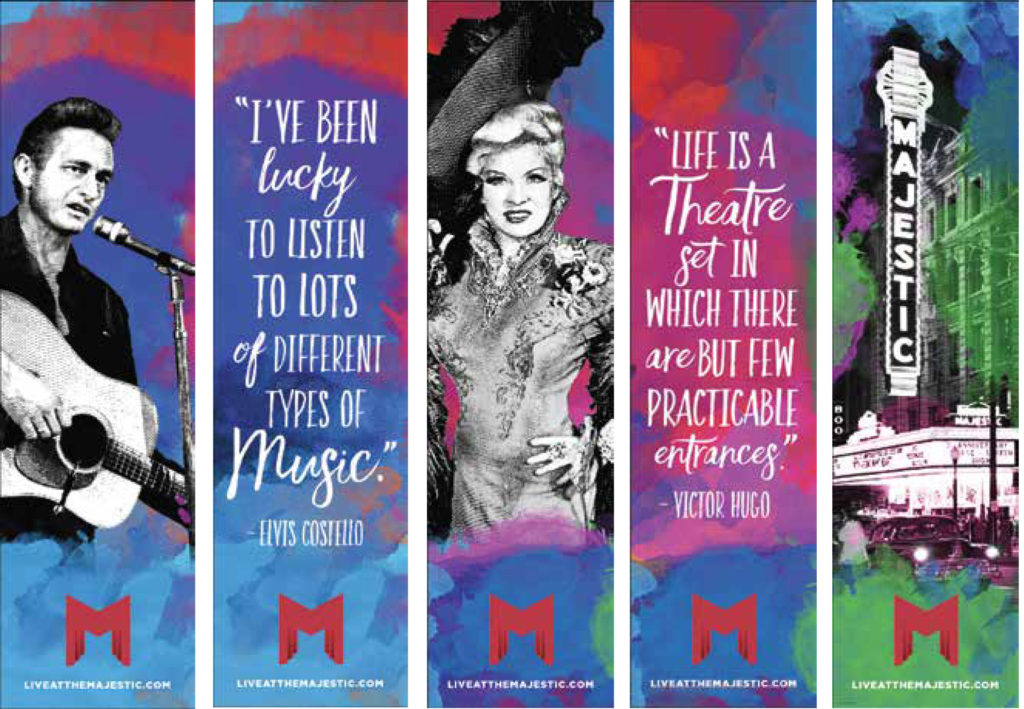 The Majestic Theatre, an icon of Dallas' historic entertainment district on Elm Street, has hung ten banners on the Pacific Avenue side of the building. The banners are designed to recognize the theatre's vast 97-year history, celebrate the venue's robust programming, and activate the façade, which will be adjacent to the new downtown park, Pacific Plaza. Passersby will see images of artists who have performed during various eras of the Majestic, as well as quotes highlighting the different art forms presented there today.
 "The frames on which to hang the banners were already in place and had been unused for many years. With Pacific Plaza coming soon, this became a great opportunity to beautify the back of the theatre while simultaneously having a presence in the new park," said General Manager Mike Schwedler. "This is also where performers enter the theatre and the banners will be a great first impression, welcoming them to the Majestic."
 Four artists who have performed at the Majestic Theatre are depicted on the banners: Mae West from the Vaudeville era, Cab Calloway from the time of the big bands, Johnny Cash representing live music, and Jimmy Stewart from the movie house days. The fifth banner depicts the Majestic's famous marquee and commemorates the rich history of Dallas' Theater Row. The quotes represent the types of programming presented on the Majestic Theatre stage:
 "I've been lucky to listen to lots of different types of music." – Elvis Costello
"Life is a theatre set in which there are but few practicable entrances." – Victor Hugo
"Comedy is the blues for people who can't sing." – Chris Rock
"Let's dance. Put on your red shoes and dance the blues." – David Bowie
"Let's go to the movies. Let's go see the stars!" – From Annie
 "Collaboration was really the key to making this happen," said Business Manager Hayley Dyer. Local Dallas artist Pat Ramseur worked with Dyer on creating the designs, Downtown Dallas Inc. helped support the project through their Downtown Improvement District matching funds grant, and four of the five images used came from the Dallas Public Library's archives. Dyer says, "Through this process, we not only learned about the legends of the Majestic, but we became more excited than ever about its future."