Colleyville, Texas  December 5, 2018
Calls for Tarrant County's Republican Party's Vice-Chairman, Shadid Shafi's resignation, by a  few in  the county Republican organization, that seem obsessed to shoot themselves in their own political foot and  hell bent to include the entire Tarrant County GOP.
The Star-Telegram's Editorial page of Dec. 2, 2018, was only too happy to point the matter of Shahid Shafi out to those who still read their paper.  As stated in the S-T Editorial…"As this ulcer festers through the Christmas season, we also realize that county Republicans of good intent don't appreciate  the bad publicity this has generated. We take no pleasure in reporting or commenting on it."  Hard to believe the liberal bent Star-Telegram , "took no pleasure," when on the same page is the following political cartoon!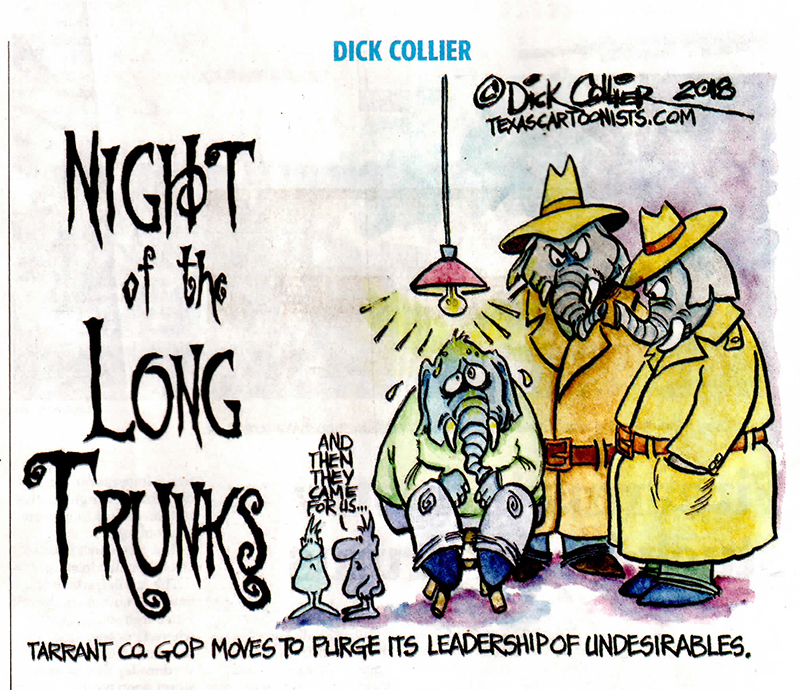 Of course, the sincerity of the statement doesn't fit the political cartoon or it's message of exclusion or reference to Nazi atrocities. Followed by, "But this matter represents a momentous and fundamental question of American society that, frankly, we thought had been answered as long ago as a Catholic president's election in 1960" Now this statement is further meant to plunge and turn the knife in the gut of the local Republican Party.  The Editorial continues with the following, "More party faithful need to stand up and say–as Texas Land Commissioner George P. Bush, Texas House Speaker Joe Straus (soon to be the previous speaker, not a favorite with many conservatives and a last punch thrown at them), and finally, Tarrant County District Clerk Tom Wilder, the only one in the list from Tarrant County and a conservative!  Another effort to fracture the local organization.
Those in the Tarrant County Republican party that have called for Shafi's dismissal or resignation for the sole reason he is Muslim, is the exact type of misguided minority rantings that give hope to those seeking to turn Tarrant County Blue!
Less we forget in Tarrant County, we have had political "church Deacon characters" in the party that have seemed unphased by their very public infidelities, while running as a Republican "Family Friendly" Judicial Candidate, no action, not even dismissal as a precinct chairman was apparently considered.
While there are those do-gooders, that now want Shafi to be routed out of the Tarrant County GOP, not because of his misdeeds, but because he is a Muslim?
Has he been accused of insidious deeds, like flagrant public infidelities or how about "forging" information on the list of delegates to the County Convention by going into party headquarters, tearing open sealed envelopes, from a legitimate Precinct Convention, and simply adding his name and others of his buddies?
No he has not; while those who have been identified as breaking these rules, "because that's always how we do it," are winning chamber awards and still ensconced in party activities.
So why a measly few throw Shafi under the bus, because of his religion, much worse culprits remain.
There is a wide array of different beliefs and practices in the Christian faith.  One should consider there may be different beliefs and actions in the Muslim faith.
So my recommendation is for the Tarrant GOP Party to move forward to winning the hearts, minds and votes of the public, rather than figuring out how to expel those who have joined the cause.
Only when and if Shafi demonstrates practices that are offensive to the public consciousness, should there be a discussion about this nonsense; because apparently the party has continued to embrace those who have,  and still remained ignored.

The Tarrant County Republican Executive Committee should immediately vote to reject efforts to remove Shafi from his post and get on with trying to figure out how to get more people to vote Republican!  Unless, that is, the members want to give the liberal Star-Telegram a win on an unforced error.
The following is a statement from a number of Elected Tarrant County Republican Officials including, Glen Whitley, Tarrant County Judge,  Gary Fickes,  Tarrant County Commissioner, Pct. 3, Andy Nguyen, Tarrant County Commissioner, Pct 2, J.D> Johnson, Tarrant County Commissioner, Pct. 4,  Bill Waybourn, Sheriff Tarrant County, Mary Louise Garcia, Tarrant County Clerk, Tom Wilder, Tarrant County District Clerk, and Ron Wright Tarrant County Tax Assessor/Collector
NOTE: Tarrant County Elected Officials Statement on Freedom of Religion (12-5-18) – Copy
Nelson Thibodeaux –

NOTE;  This week after asking to join the "Group" Tarrant County Republican County Executive Group Facebook page; the following message was received via private messenger on Facebook:.
Received private FaceBook Message from Bill Eastland – Describing himself as…."Former Dist. 9 Committeeman at Republican Party of Texas and Owner-Operator of Eastland Tax Service.  Studied Political Science/Economics at the University of Texas – Arlington."
"Nelson, you requested membership in the Facebook group Tarrant County Republican Party Executive Committee. Unfortunately, this is a closed group only for Precinct Chairs and others who have floor privileges or another important relationship to our County Party. The purpose of the group is to allow us to discuss matters that concern the EC in a private setting. It appears you do not fall in one of those categories, so I can't accept your request to join. If you are convinced I am wrong (for instance, your FB name is not your real name), please message me. Thank you, Bill Eastland, Admin"
Apparently there are secrets to that a life-long Republican Party Member in Texas and/or a mere journalist are not privileged to read or be apprised of  by the Tarrant County GOP Executive Committee, while it appears plots are hatched to throw people out of the party in their "private setting."

NO Mr. Eastland, I have always used my "real" name on Facebook…but apparently the Tarrant Republican Party, via your correspondence, must suspect everyone may be out to leak your "private settings" secrets.  Wow, who the HEll is running the party with this attitude?  May I suggest a format other than  the very public Facebook.com?