December 1, 2015 An Editorial by Nelson Thibodeaux, Editor LNO
Tonight as many citizens will arrive at Colleyville City Hall to indicate their wishes that the Colleyville City Council turn down the High Density Comprehensive Plan and start the process over with more citizens input; a lingering question simply has not been answered.  That is there no longer seems a Bright Line between the City Manager Jennifer Fadden and the politics of the Colleyville City Council. It is time for all parties to come clear based on their motivation for the High Density Revolution in Colleyville and the blurred line between the Administration of the City and the Political Pundits of City Council.
Previously, LNO exposed emails that were copied to the City Manager concerning the willful manipulation of figures in the May 2015 City Council Election.  As well as City Employees helping write political statements and review a press release from Councilman Mogged designed to "play the angle" of a safety issue with Glade Road.
On November 23, 2015, LNO sent an inquiry to City Manager Jennifer Fadden asking for response to the following questions:

Jennifer: As you may recall LNO had requested all correspondence regarding Glade Road, PRIOR to the MAY ELECTION DATE. However, the city elected to delay the response by requesting an Attorney General's Opinion. The result was the Texas AG simply stating that certain information, such as the emails, could be redacted. Prior to the election date, LNO received 4 pages of information. However, sometime after the election date LNO received 237 pages. In a review of these pages is the following copy of an email to Mona Gandy and Yourself from Councilman Chuck Mogged. My questions are as follows:
1.) Under what circumstances have you allowed city staff to become involved one on one with a City Council member, such as Mona, providing advice?
2.) Under what circumstances have you personally provided input to a member of council pertaining to a "strategy" concerning matters in an open election?
3.) Under what circumstances have you corresponded with a member of council who has provided you with a message that an "angle" was to be deployed to influence the public vote, versus providing clear and documented information to the public. For example using the "safety angle" that accidents have doubled on Glade Road, when in fact that is not true, in fact there were same amount of accidents in 2014 and 2011 on Glade Road and actual increase on Glade was only 13%?
4.) Under what circumstances did you release an Attorney's opinion to the public , that was Attorney Client privilege" concerning his opinion the Citizen's petition would make it difficult to properly repair Glade Road? Thank You Nelson Thibodeaux
Ms. Fadden responded we could expect an answer, "as soon as possible early next week."  Of course, the response of the City Manager could also have an impact on what, if any, role the City Manager has played in perpetuation of the High Density push?
Tue 11/24/2015 4:54 PM Nelson: Thank you for your email. I am focused on completing the City Council packet that must be delivered tomorrow to accommodate the holiday week. I will respond to your email as soon as possible early next week. I hope you and your family have a Happy Thanksgiving. Jennifer Jennifer Fadden, ICMA-CM City Manager
Now comes what appears evidence that the City Manager has vested herself very well in High Density Colleyville property, particularly in the Village of Colleyville, unquestionably a very High Density development. All of these properties are shown as belonging to "Thomas Monroe Properties" with the address shown as the Home Address of Jennifer Fadden, Colleyville City Manager.
Without a very good explanation from the City Manager of why she has never recused herself from any discussions concerning the High Density Development known as the Village of Colleyville, one must ask, is the previous evidence of City Employees becoming active in the role of helping elect a select few a prelude to what may be found if one digs deeper?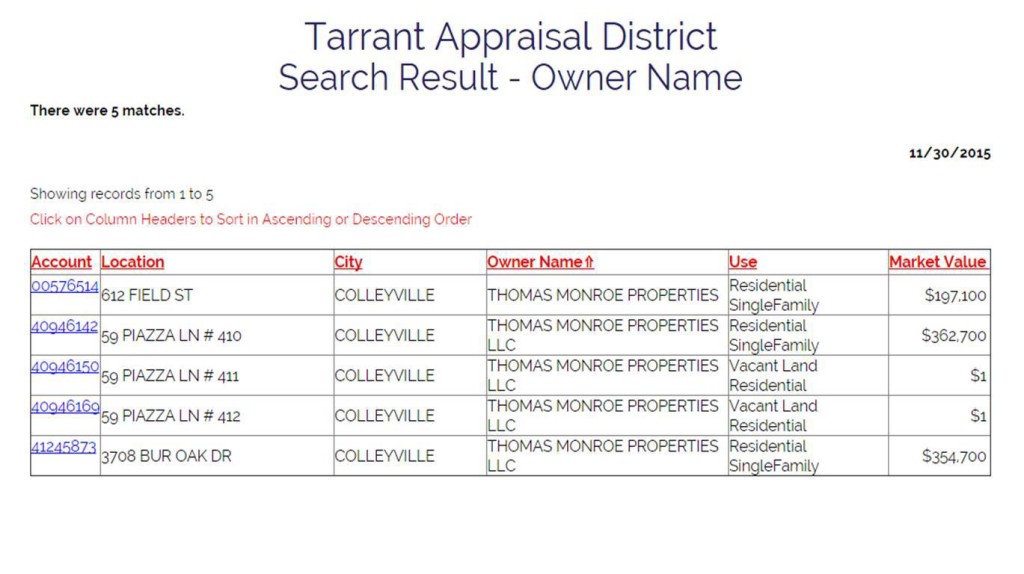 It is indeed worrisome that a High Density discussion is at hand with a Comprehensive Plan written by City Employees who work directly for City Manager Jennifer Fadden who herself has substantial investment in High Density properties.
One of the City Manager's investment in High Density property is shown below and it simply doesn't get more High Density than these structures.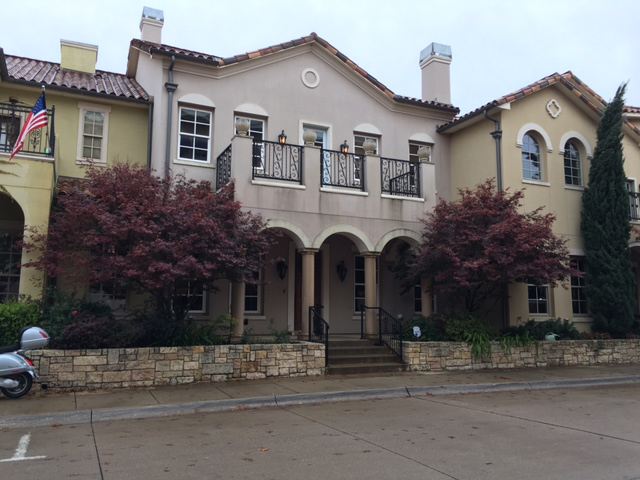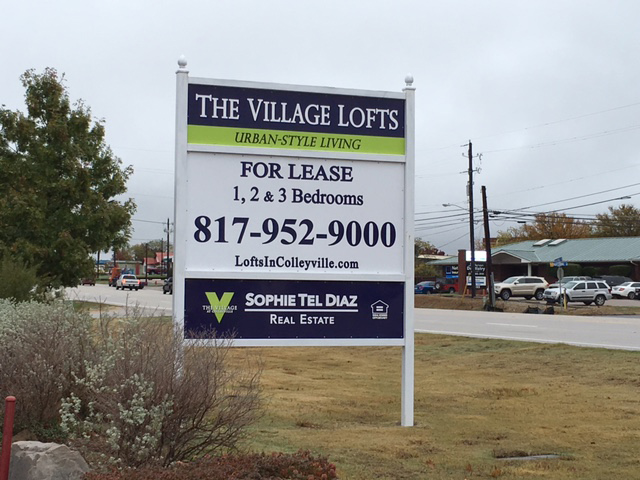 The curious tale of residents skyrocketing water bills is eerily reminiscent of high electrical bills in Weatherford, where at her previous job as City Manager an outcry from citizens resulted in a 3 to 2 vote asking for her resignation.  Citizens now want, deserve and expect answers from Jennifer Fadden, City Manager of Colleyville to clearly and distinctly explain what her role and her employees have been in High Density plans, assistance with political matters favoring one side and finally what appears another financial windfall to Ms. Fadden.
When you put these matters on top of what appears to be a number of potential conflict of interest positions held by certain P&Z members, the Mayor, et. al.; something about this whole High Density push stinks to HIGH HEAVEN…..
Apparently the Colleyville City Manager's last financial windfall was after she resigned as City Manager of Weatherford.
The following is excerpts from a Star Telegram Article:
"In the case of the ex-City Manager Jennifer Faddden of Weatherford previously  served as an assistant City Manager in Arlington before accepting an assistant's position in Weatherford.  However, December 2007 she was appointed City Manager after the city's existing City Manager Bill Davis was injured in a car crash. The Weatherford Democrat reported on  August 25, 2008; "For more than an hour in Tuesday night's meeting of the Weatherford City Council, Jennifer Fadden listened as citizen after citizen called for her forced removal from the city manager's position. And although some citizens have threatened recall action against the council if she is not fired, some city leaders are standing behind Fadden in the face of the storm."   She later resigned as City Manager on September 9, 2008, leaving her $140,000  position. At the meeting the newspaper reported that Fadden said, "I serve at the pleasure of the city council. The city council is elected by the people of Weatherford. I will serve the people of Weatherford until the city council no longer wants me to do that."  Apparently by September 9, 2008 the city council no longer wanted her to serve on a 3 to 2 vote accepting her resignation. Fadden's "resignation" followed months of upheaval at City Hall, centering around the city manager's perceived role in skyrocketing electric rates. Fadden, who became Weatherford's City Manager in January, received six months salary and benefits, $30,000 in relocation allowance and is being retained as a consultant to the city for $14,000 per month for a maximum of eight months. According to the newspaper, if Fadden does not accept a new position in that amount of time, the price tag for her "resignation" will top $240,000.  At that price tag City of Weatherford officials have a vested interest in Fadden gaining new employment. The Weatherford Democrat upon her September 9, 2008 resignation , Fadden stated; "The role of the city manager is to be a uniter, not a divider," Fadden said. "I know you'll continue to fight the good fight, and keep progress and prosperity at the forefront of our community."
Apparently there were a number of citizens unhappy with Ms. Fadden in Weatherford, as a resident wrote concerning her severance package.

I would like to comment on Fadden's severance package as quoted in Sunday's edition of the Weatherford Democrat. I am in disbelief. I am completely outraged! Fadden is going to be well compensated for causing a fiasco in the city of Weatherford. What is wrong with this picture? There is no money for cost of living pay raises for city employess as well as Weatherford's police officers, but there is a ridiculous amount of money to give to an incompetent(ex)city manager? How can this be? The city council can agree to pay almost a quarter of a million dollars to an undeserving ex-employee who, quite obviously, didn't have the city's residents best interest at heart. This is completely outrageous. What is it going to take to get our city council devoted to the people instead of certain individuals? This is our city too! It is quite evident that the city council does not have the citizens' best interest at heart or that of the city employees for that matter. It seems evident that the city council has gone out of control. Something has to be done about this. Posted by: R.D. Shaw | September 14, 2008 at 06:42 PM
I personally like Jennifer and felt she has always been responsive.  However, after her failure to respond to what appears 4 simple questions because obviously she is tied up in High Density solutions, I feel the citizens deserve an honest open response to questions about how blurred is this line?