Colleyville, Texas January 26, 2016
By Nelson Thibodeaux
I met Porter in 1982, the year after his amazing 21 year run on television ended in 1981. Porter had the kind of personality that made you feel like you had known him for years. I brought him down to the Grapevine Opry, on Grapevine's Main Street, five times to perform from 1982 to 1985.  His reputation as a Great Showman was well deserved as he bantered back and forth with the audience.  He would swing open his Nudie designed rhinestone jacket (the famous designer of Elvis Presley stage wear), with the word HI! in giant letters every opening act and the audience never got tired of it.  Porter passed away from lung cancer on Oct. 28, 2007 and his funeral was held at the Grand Old Opry House on November 1, 2007.
Wagoner, who did for Country singers and writers what Johnny Carson did for Comedians and The Twilight Zone  did for young actors, was significant in getting many up-and-coming stars recognized.
The Porter Wagoner Show was the "place to go" for everyone who wanted to be someone in country music. It had an amazing 686 episodes from 1960-1981 with 104 of those being displayed in black and white (1960-66). Dolly Parton was a show regular and she and Wagoner partnered in the business for years.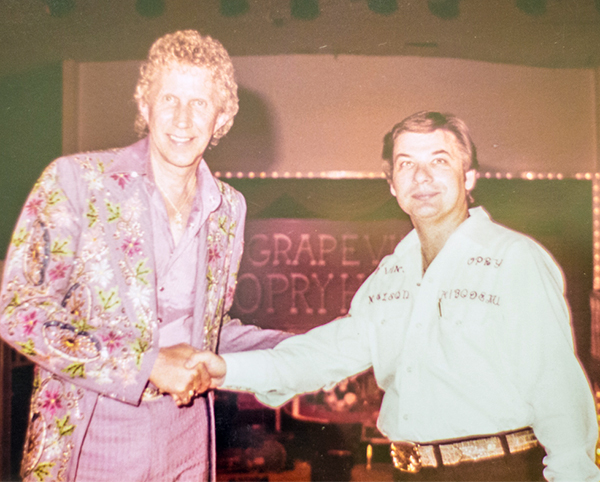 Porter Wagoner and Nelson Thibodeaux Circa 1982
One of the up and coming Country Singers was Willie Nelson. Nelson benefited from his appearance as a guest and was well on his way to an amazing career.
Seeing some of our favorite stars as they were before we knew them can be a pretty nice treat. This rare footage of Willie Nelson back in the early sixties is no exception. His appearance on The Porter Wagoner Show  certainly displayed a Nelson we're not used to seeing.
Willie Nelson was born in 1933 in Abbott, Texas and was raised at the tail end of The Great Depression by his Grandparents. Nelson definitely had the type of rough road upbringing that served as an orchard of stories from which to draw his songs. His song-writing tells of many hardships and bitter experiences he has had along the way. But with Willie, as is the case with most of us, the experiences made him what he is today.
In this rare footage from The Porter Wagoner Show,  we see a clean-shaven, suit laden Nelson.
Below we see Wagoner introducing "Willie" to sing a song he had written but was originally recorded by Faron Young. Porter says, "Why don't you sing the song responsible for bringing you to Nashville and making a really big artist out of you." Nelson seemed glad to oblige and gave a wonderful rendition of "Hello Walls." A few years later his song "Pretty Paper" worked well for him when it was recorded by a singer named Roy Orbison.
No doubt, the great Willie Nelson was on his way. It's fun to see what the man who would become "King of Outlaw Country" did before he went On The Road Again.
<i