From bake sales to t-shirt sales to coin drives, Dove Elementary School students have been raising funds for LIMBS International. On Thursday, February 11 at 10:35 a.m., a representative from LIMBS International is coming to speak with the students at Dove ES (1932 Dove Road, Grapevine, TX 76051) about the organization. Students will surprise the representative with an oversized check donation of $2420.86 for LIMBS International.

5th graders at Dove Elementary are becoming global citizens by partnering with LIMBS International to take action and improve the quality of life for amputees. When someone in a developing country becomes an amputee – they quickly come to realize they have lost much more than a limb. LIMBS International works to bridge the gap between advanced technology and affordability. They make high-quality leg systems available to those who need them most. LIMBS makes prosthetics for amputees for less than the cost of a smart phone.
Once they heard about the devastation amputee patients face, Dove Elementary 5th graders took action.  They set a fundraising goal and planned what they needed to accomplish in order to achieve this goal.  They divided themselves into cooperative groups in order to spread the campaign work out among themselves.  For 20 minutes every Friday afternoon, students collaborated during "LIMBS Time." Some students organized community fundraising, while others led the fundraising initiative at school.  Two different teams of communicators worked to inform the community and school about the purpose of LIMBS and their fundraising goal. They worked together to create campaign videos, tweets, and articles to share and spread the word.  Students set a fundraising goal of $1,200.  To date, students at Dove Elementary have more than doubled their goal, raising $2,420.86.  At this amount, eight amputees, will be given a prosthetic limb and a new hope for their future.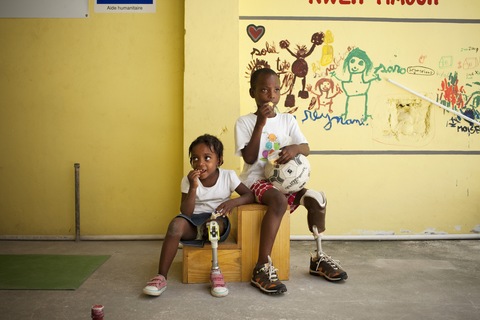 A devastating earthquake in Haiti killed more than 200,000 people and caused injuries that required amputations for another 4,000 people. There was a major struggle to fit so many with new prosthetic limbs.