Ft. Worth, Texas   Jan 10, 2017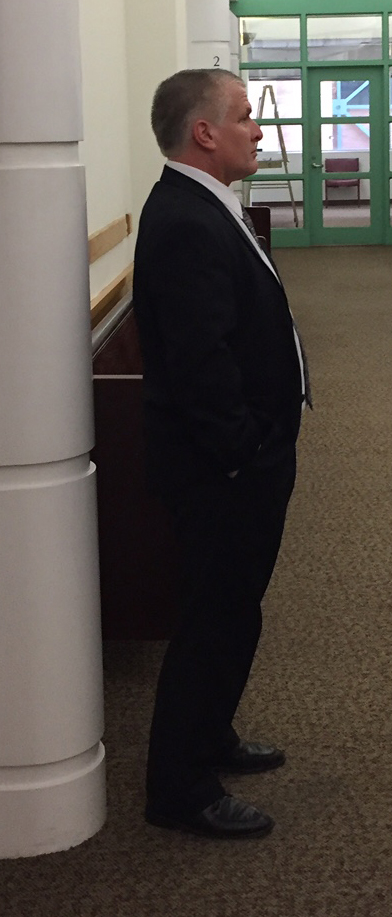 Damian Merrick standing outside the court room during a break in the proceedings. 
After the Jury was selected yesterday and the Judge dealt with various issues of request by the attorneys,the long delayed trial of Damian Merrick of Grapevine and Colleyville, started in the Courtroom in Ft. Worth of Judge Molly Westfall.
The initial testimony has been from young adults testifying about being traumatized by Merrick, or that had knowledge of activities of Merrick with girls who were 15 and 16 at the time.
Testimony included the fact that one of the individuals was confused about the attention she was getting from Merrick and when later confronted by Police did not want to talk about the sexual assault.  The person also stated that they felt manipulated and perplexed because Merrick was a friend of one of their friend's father.  Later testifying that no other parent would have allowed the ongoing incidents to occur if they were effectively made aware of the actions of Merrick getting drugs and having inappropriate relationships with young girls.
The testimony from the witness was forceful and strong.
One alleged victim testified that her parents spent thousands of dollars on a program to help her deal with the issues after the Merrick incidents.
Testimony of events between Merrick and the girls, including inappropriate touching and obtaining Marijuana on a trip to Colorado in 2015 highlighted the Prosecution's first day.
As Defense are prone to do, they repeatedly question one young individual that testified he had seen Merrick kissing on the girls in a parking lot.  Asked to describe what he saw, he testified that it certainly was not a kiss that a father would give to a daughter.  He further testified that he told Merrick's family members shortly after witnessing the event.  He further said that out of the two individuals one stated "Well, I am not surprised,"  while the other told him, "OK thanks for telling me." Defense attorneys drilled down on why he didn't go to the police and the testimony was "I told Merrick family members and my parents and thought that would be adequate.
Another testified that Merrick was seen driving slowly around their High School even after she understood there was a Court Order that forbid him to come close to the victims.  Further that they received a text directly from Merrick asking them to contact one alleged victim on his behalf and that she thereafter blocked him and eventually turned the phone over to the Police.
The following are some of the articles posted by LNO on the Merrick situation.  For more information than listed below, go to the search engine and type in Damian Merrick.
WFAA Confirms Volleyball Coach Charges
WFAA confirms LNO Story on Grapevine Volleyball Coach Damian Merrick
LNO Obtains Search Warrants and Arrest Warrant Served On Damian Merrick…Warning Language is Explicit
Damian Merrick Has Three Additional Felony Warrants Issued by a Granbury Judge Today.
Damian Merrick Has Three Additional Felony Warrants Issued by a Granbury Judge Today.